Read "capsule" collections in restaurant chains become frequent and usually represent a real revolution fans brand (remember when Juancho's BBQ was supposed to bring out a limited-edition hamburger that was born as an April Fool's joke by popular demand).
Great Neapolitanthe best chain of artisan pizzerias in Spain and 3rd in the world according to 50 Top Pizzasalso surprises us from time to time limited edition, for a limited time, sometimes collaborating with fellow chefs and recognized brands in the industry with whom they share values, such as the importance of product quality or tradition, together preparing unique pizzas that are only available for one month.
After the previous editions starring Francesco Martucci (best pizza maker world), Formage, Nino Redruello and Roberto Ruiz, Maria Lo and Veronica Gómez de Liaño the main characters of this fifth part are new Chapter V of the Limited Edition. Also, for the first time in the project's history, the duo is the creator of the recipe instead of a single chef.
La Finalista Pizza by Veronica and Maria Lo
During this school year, both finalists of the last edition of MasterChef Spain moved to San Sebastián to attend the Basque Culinary Center, where they are trained as professional chefs. Recently, the team Great Neapolitan he met them there for the opening of the chain's first store in this Basque city, and that's where the collaboration was born and where they created the recipe; Chapter V of the Limited Edition.
The result of this four-handed recipe, called "La finalista," is a pizza which combines two chefs' kitchens. Despite the fact that they are two very different types of cuisine, they have managed to find a balance that will make your pizza do not leave yourself indifferent. Veronica's kitchen is a feast of vegetables, spices and flavorful sauces. And María's, on the other hand, is very stocked, with no shortage of meat, cured meats, sausages or fish.
Combining the two styles into one was not easy pizza Neapolitan, but they finally found success in the hands of Fabrizio Polacco, product manager at Grosso Napoletano. Veronica made a bet from the start wood oven roasted pumpkin with a touch of rosemary and, for her part, Maria was very clear that torches I had to attend this pizza. So, "La finalista" is prepared on the following basis confit garlic cream with sageroasted pumpkin with rosemary and red onion in our wood ovens, queso gorgonzola, fiordilatte mozzarellacrispy guanciale and a fresh touch lime flavor.
Just one month to try
"The Finalist" will be available for only one month.from February 17 to March 19– in all Grosso Napoletano stores in Spain as well as Senza Glutine Madrid, Barcelona and Seville with limited units per day and per store. The price of this pizza it is €17.90 and €19.90 locally at Senza Glutine.
It Limited edition more viral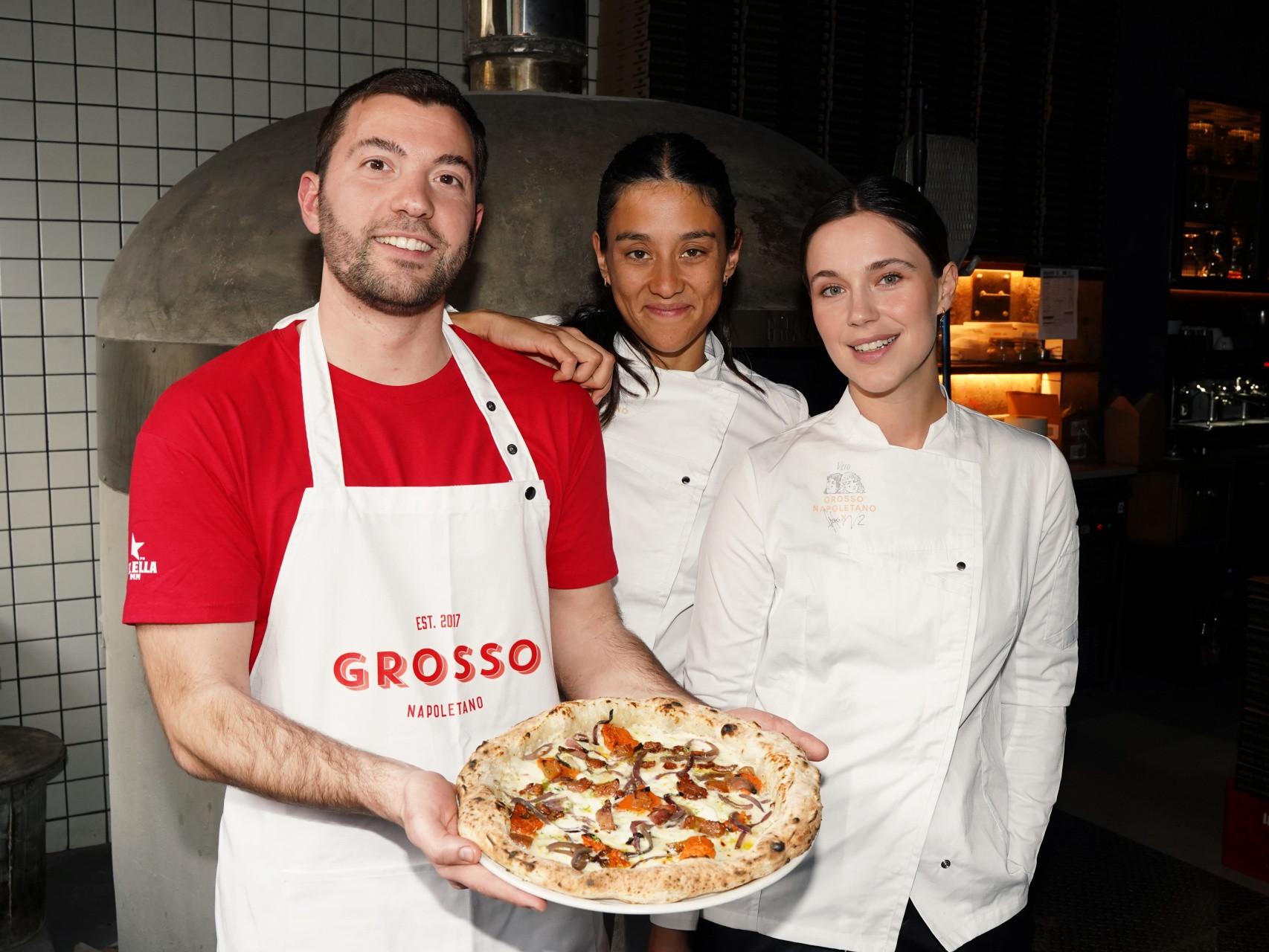 María Lo and Veronica are the champion and runner-up, respectively, of the tenth edition of "MasterChef" shown on television in our country. Their time on the show and the good vibes they spread made them one of the most viral duos and recognized by the public.
on cooperation with Great NeapolitanMaria Lo comments: "Who would have thought that I would end up in design? pizza limited edition with Vero Great Neapolitan And what will be in their 28 restaurants that they have all over Spain? Besides, pizza it's one of my favorite foods. And what a pizza. I always say it, for me the most important thing in the kitchen is to achieve balanced flavors and this pizza with zucchini and red onions in a stone oven is well done, sweet and smoky. It milk cream Along with gorgonzola, with its milky and salty touch. He torches Crispy Italian, very tasty. And finishing off the pizza with a special touch of grated lime that gives it a spectacular aroma when it reaches the table… I marry her. And it's not because we designed it ourselves!! It's just very, very good to "repeat" several times.
In Vero's words: "I'm super honored that the brand likes it Great Neapolitan notice us and choose us to create the new limited edition. I'm a big fan of good pizza (who doesn't?) and I'm especially excited about this collaboration. It's been months of teamwork designing what I believe is one of the best pizzas I've never tried it, and it's not because it's ours. We originally wanted to do something different, but still keep the Neapolitan essence Grosso. The mix of ingredients we've come up with is amazing. Sweet, salty, umami… it has everything to be the perfect snack. These months of creation with Grosso's team have been a lot of fun. We've learned a ton about pizza and have been amazed by the processes, the quality, the love for the product…brutal. Also, Maria and I were able to do this together, and I hope it's the first of many. It makes me very happy."
Follow topics that interest you