We love soups. No matter where in the world they cook, it's soup the most comforting dish. The soup that we are going to detail next has its origin in Venezuela, a country rich in raw materials to develop such famous recipes as the Creole pavilion, Venezuelan halacas or arepas, among an infinite number of other delicious snacks.
Venezuelan Sancocho Sunday or holiday recipe? that brings family and friends together around the table to enjoy this delicious spoon dish. In this case, the recipe is prepared beef and chickenwhich causes what is known as sancocho cruzado or sancocho llanero but it can be made only with chicken or chicken or beef as the main ingredient. There are other regions where this delicacy is also cooked, such as Canarian stew made with salted fish.
The original recipe includes ingredients that are not easy to find in Spain, such as yuccas, yams and okumos. But if we have the opportunity and can access them to incorporate them into the recipe, the dish will definitely gain authenticity and taste. In this case, we will have to include them together with the potatoes. Let's go with the recipe.
recipe information
Preparation time: 10 minutes
cooking time1 hour 45 minutes
Total time. 1 hour 55 minutes
portions: 4:
Status:: main dish
type of cuisinevenezuelan
Calories per serving (kcal): 595:
Ingredients for Venezuelan Sancocho for 4 people
30ml extra virgin olive oil
2 onions
3 cloves of garlic
1 branch of celery
1 leek
¼ cabbage
2 sweet peppers
Sal:
Ground white pepper
3 chicken legs
500 g of beef
3 liters of water or chicken broth
2 jojoto or corn mazorka
2 carrots
5 medium potatoes or 1 cassava
1 kg of auyama or pumpkin
ash
optional mint
Monica Canovas
How to make Venezuelan Sancocho
To start the Venezuelan sancocho, heat 30ml extra virgin olive oil in a large saucepan. While the oil is heating, saute 2 onions, 3 cloves of garlic, 1 celery stick, 1 leek, ¼ cabbage and 2 sweet peppers. Add all the chopped ingredients to the pot, season with salt and pepper and fry on low heat for about 10 minutes.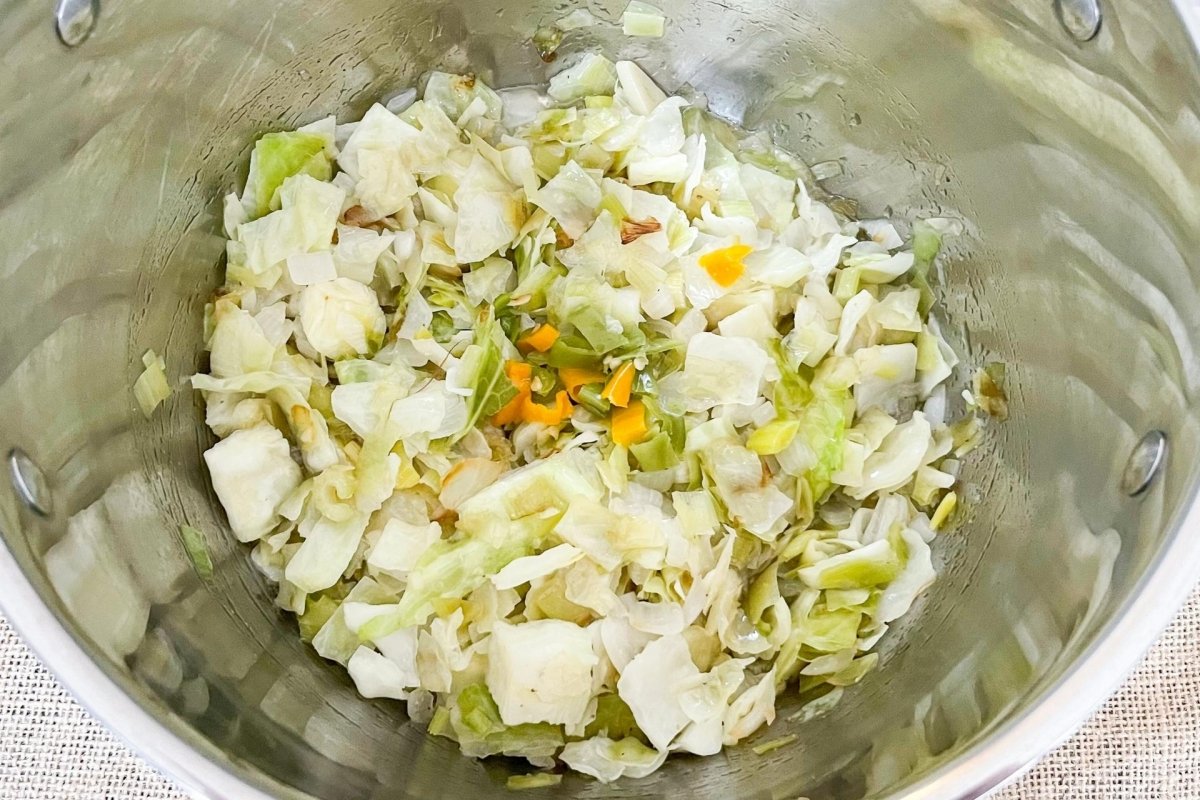 Monica Canovas
As soon as the onion starts to become transparent, add 3 chicken legs and 500 g of beef, cut and pre-seasoned. When the meat is browned, cover with 3 liters of water or chicken or meat broth and cook on low heat for 1 hour so that the meat gets a soft texture.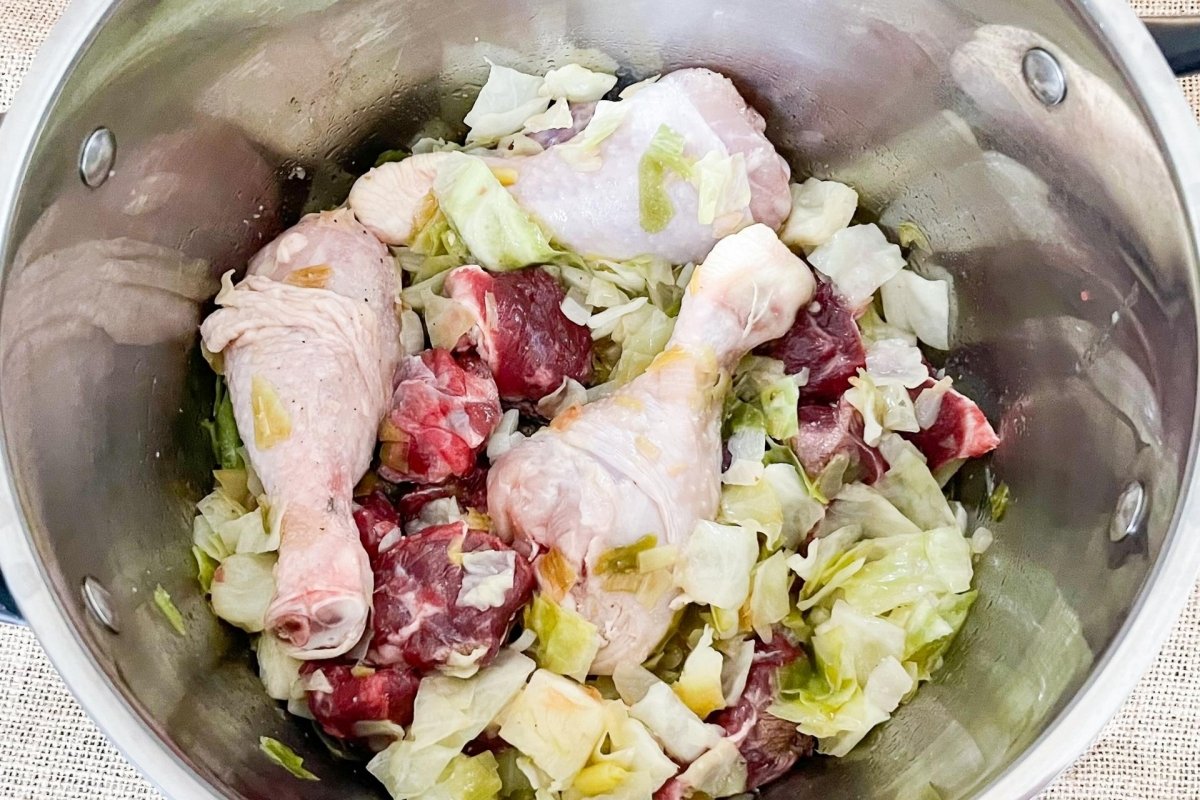 Monica Canovas
After that time, cut 2 jojoto or ears of corn into 3 parts. Peel and finely chop 2 carrots, peel and mash 5 medium-sized potatoes. Taste for salt and cook everything on low heat for another 30 minutes.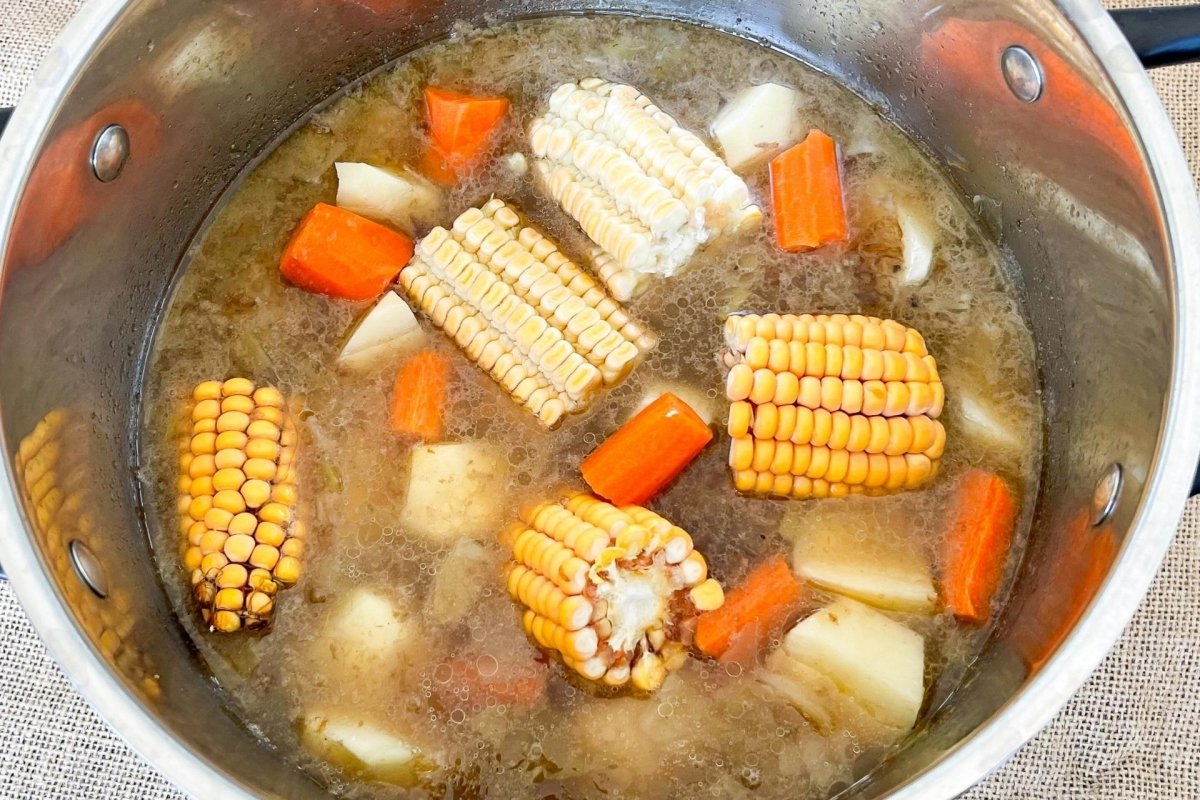 Monica Canovas
Then clean and cut 1 kg of pumpkin into cubes. Add it to the pot and cook for another 15 minutes. Turn off the flame.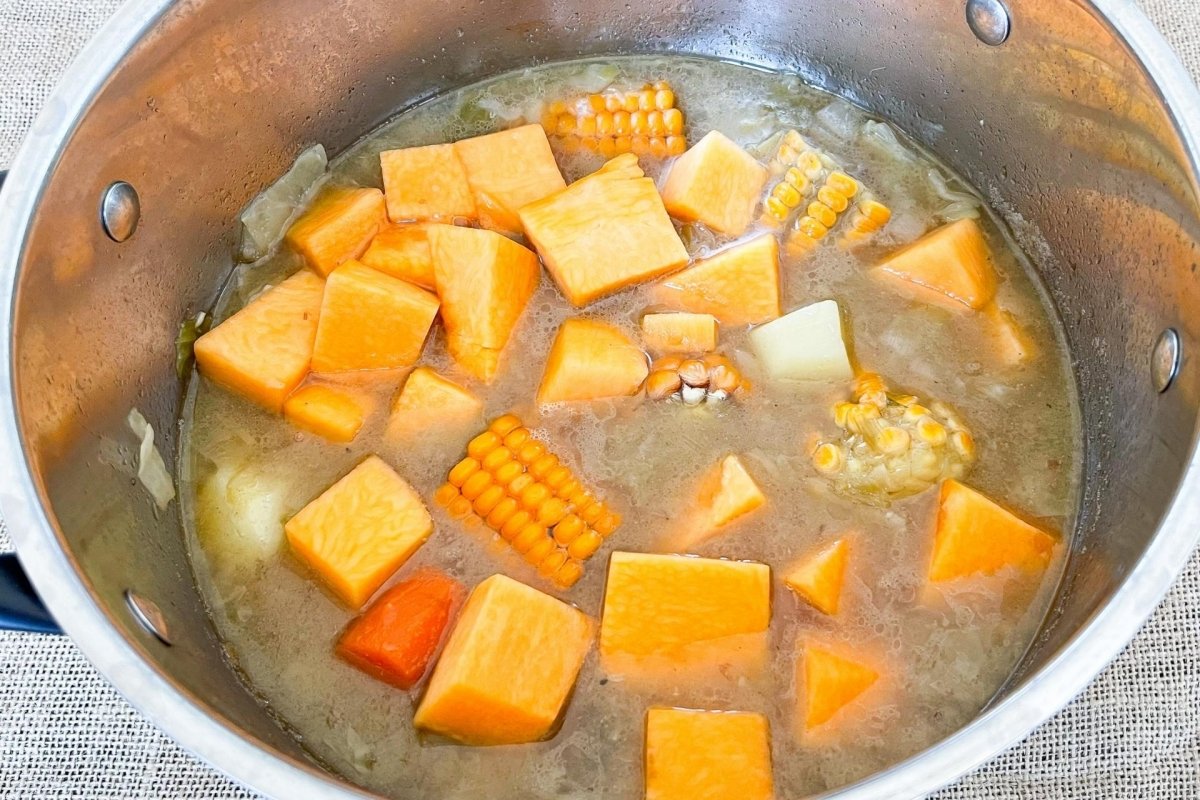 Monica Canovas
Venezuelan sancocho, and all the stews and soups that boast it, gain flavor and texture if left to rest for several hours after preparation.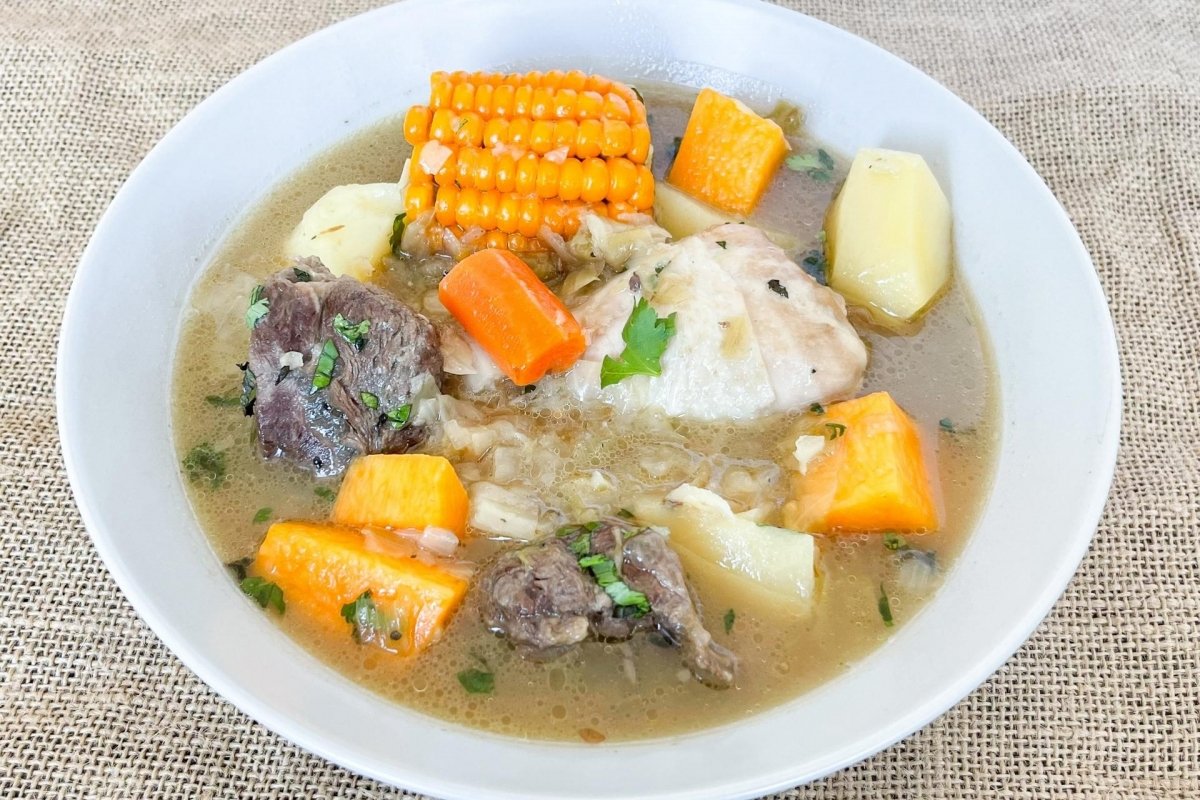 Monica Canovas
Serve in a clay pot with coriander and chopped mint to taste.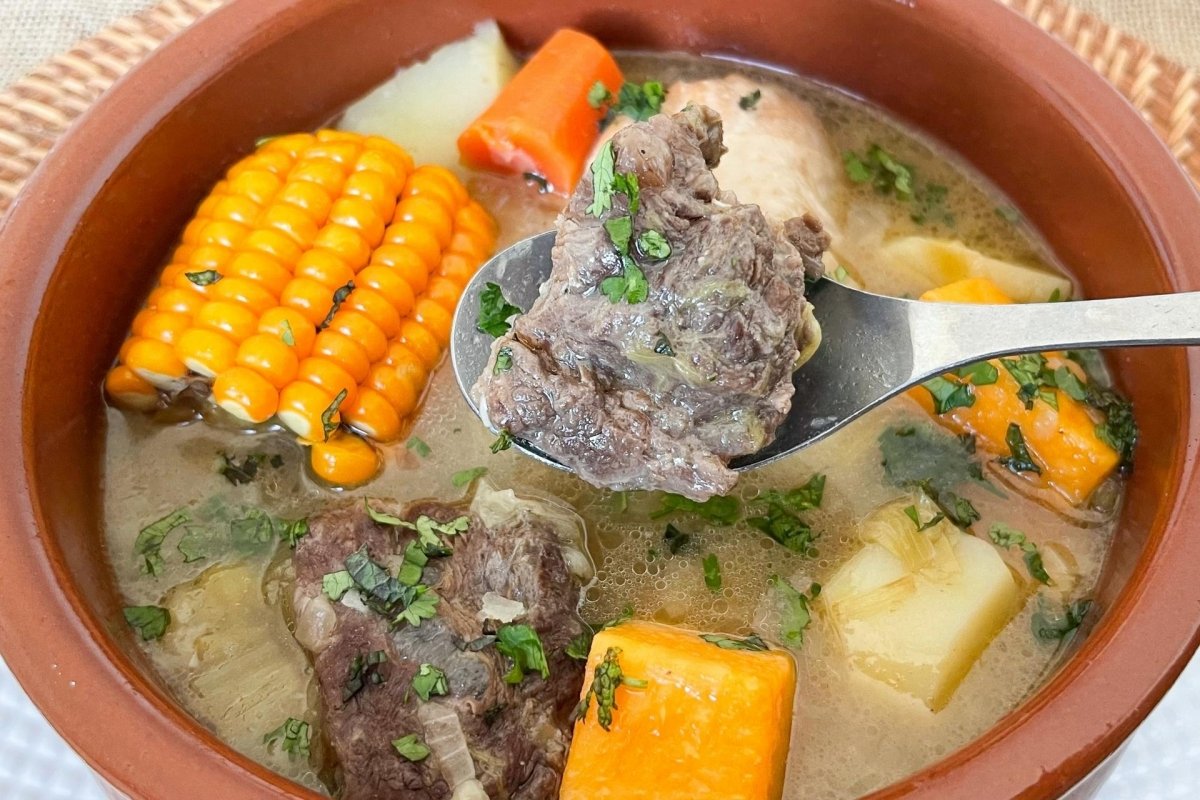 Monica Canovas
Easy cooking overview
Fry onion, garlic, celery, leek, cabbage and sweet pepper. Salt, pepper and fry over low heat
Add the chicken and pre-seasoned diced beef. When it takes color, cover with water and cook for 1 hour
Cut the ears, chop the carrot, crack the potato and add it to the pot. If necessary, add salt and pepper and cook for 30 minutes.
Peel and cut the carrot, cook for another 15 minutes and turn off the heat
Let him rest. Serve in a clay pot, sprinkled with sancocho coriander and mint to taste